The day started early, maybe a bit too early. I headed out of town while it was still dark. There was a group of Spaniards in front of me, so I followed them, thinking that if any one could read the waymarkers in the dark, it would be Spaniards. This was not a logical decision. This was not correct. This was, in fact, wrong. We, the Spaniards, myself, and a few other groups (around 15 in total) had missed the turn off to the Camino, and were about a kilometer in the wrong direction. By the time we got back to the Camino, we had lost a fair bit of time and the later-risers were ahead of us. So the first (and second) lessons of the day were: don't get up early if you are just going to get lost in the dark; and never trust a Spaniard with directions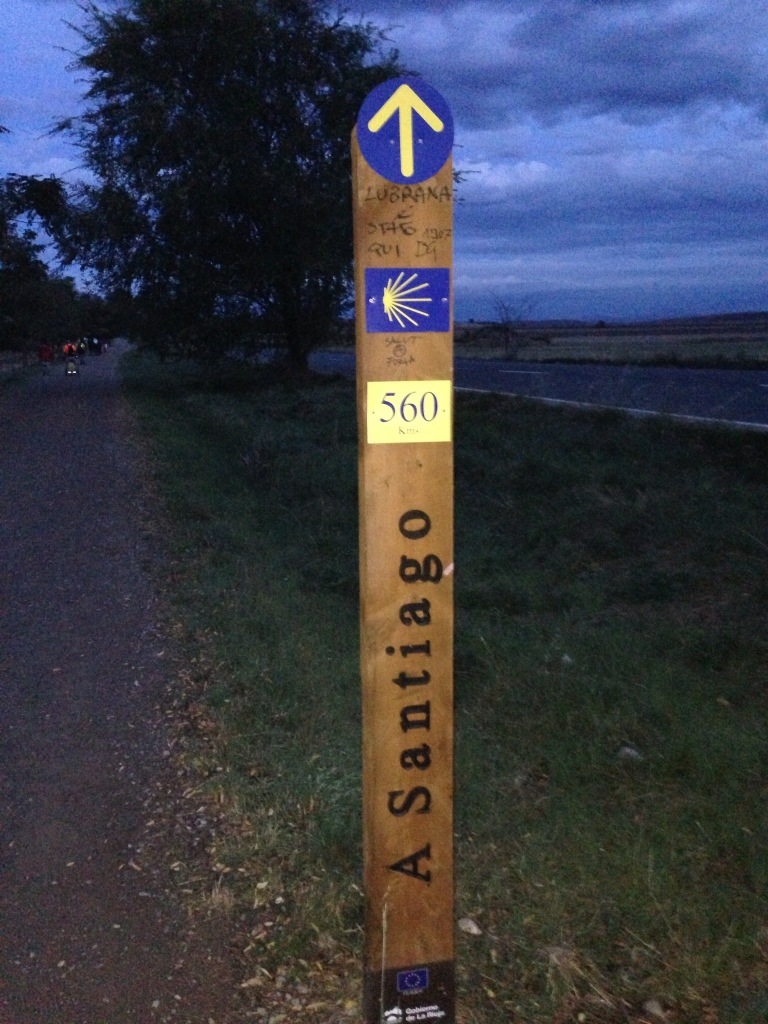 Still a long way to go: a waymarker in the dark.
After the sun had risen, the terrain had changed a bit from previous days. The vineyards and olive groves had been replaced by rolling hills and hay fields. The path was longer today, but not particularly hard. There were small towns about every 5km, so it was easy to stop and rest or have a drink. I stopped in Grañon and met Randy and Cyrilla from Colorado. The previous night, my friends from Uterga and Los Arcos, stayed at the church in Grañon, in the choir loft on little mats. ( I heard two days later that there was a bed bud infestation there and the whole church had to be fumigated. people may scoff at my luxury choices for accommodations -yes, Deb, I am talking about you – but I prefer not to take any bedbugs home with me.)
After Grañon I moved on to Redecilla del Camino, where I stopped and had my new favorite drink, Aqurius. It is like a watered down Gatorade. I am a bit addicted right now, but as the temperatures cool, I should be able to kick the habit.
I quickly made it to Villoria de Rioja, where upon entering the town I was greeted with the smell of roasting bell peppers. I came past a little alcove and found a group of Spanish women peeling and cleaning the peppers. Some other pilgrims had joined in to help. I stopped and had some lunch enjoying the quiet little town and its goings on.
I walked with two young German women for the last stretch from Villamayor del Rio into Belorado. They were continuing on to Tsantos, so we said out good-bye's, but I am sure I will see them again.
Once in Belorado, I checked into the albergue and did the day's chores: showering and laundry. After that I rested a bit, and headed over to the town square. I met up with the three Canadian guys again and had a couple drinks. They told me that there was a pilgrim's mass at 7:00. I went to the supermercado (like a 7-11 in Spanish) and bought a few supplies for the next day. I ran into Randy and Cyrilla again and told them about the mass and invited them to dinner.
Mass was preceded by a rosary. I tried to keep up, but my Spanish is just not that good. Mass was also in Spanish, obviously, and I sort of kept up with what was happening. I did figure out that it was the feast day for San Francisco, and when to say the Our Father. After mass there was a Pilgrim's blessing in all languages and then we headed out for dinner.
Dinner turned out to be the three Canadian guys, one Australian, Randy and Cyrilla, a woman from South Africa, and myself. It was a fun crowd and the wine was plentiful. It was a good end to a long day.
The day on the whole was "walk hard, play hard."
FitBit Stats:
Kilometers walked: 27.39
Steps taken: 37,315
Floors climbed: 99