Sadly, I had to leave my cucumber in Castrojeriz.
Today's walk would be long, the longest so far. And the were very few stops along the Way. The Way lead out of Castrojeriz across the river valley. Then there was a steep incline (12%) for about 1.5 km to get us up to the meseta. There was a short walk across the meseta and then an even steeper decline into another valley
I crossed the valley, the whole time with a very cold wind. Even though the valley appeared immense when I first saw it, it took less than an hour to cross. Then I crossed the river Pisuerga on a beautiful six vaulted bridge. This crossing meant I was leaving Burgos and entering Palencia.
It was still a couple more kilometers to the first cafe in Itero de la Vega, so I kept walking while chatting with a French couple from Marseilles. I rested at Itero and had my hot chocolate (Cola Cap) and some bread and jam. It was another 8+ km to the next town, Boadilla. The path was uneventful, but fast.
I spent the vast majority of the day solo walking. It was quite peaceful after the two previous days. Those had been spent with Mary and Cathy and Veronica and Diana…just to name a few. It was a treat to just spend the day in quiet, listening to my boots crunch away the miles, uh, I mean, kilometers.
Just before Boadilla I came across a shepherd and his flock…so here's the fun picture for the day.
In Boadilla I met Diane at her albergue. I was just looking for a bathroom, but ended up staying about an hour just catching up. It was late to get back on the trail, but I had reservations in Fromista.
The last 6-7 km were surprisingly pretty after a rather dull scenery day. The path ran through tree lined roads, and then next to the Canal de Castilla. It was nice to be walking near water again. It's no Pacific Ocean, but I'll take it. I crossed over a dam just before entering town.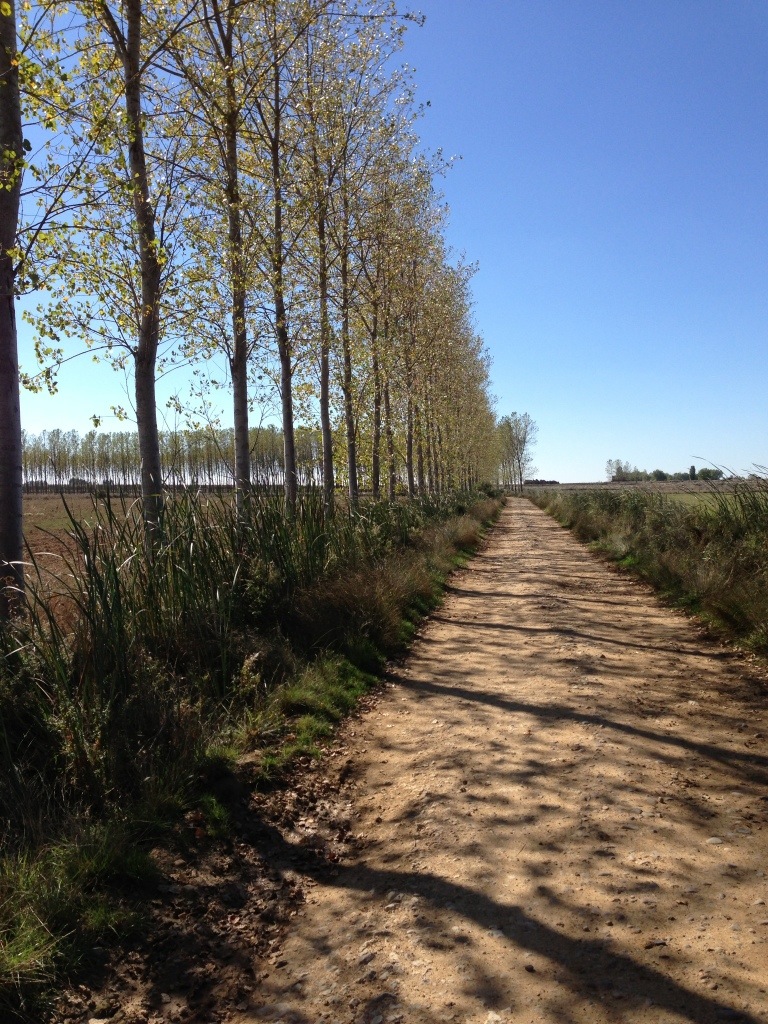 The evening was uneventful, with the exception of the Korean pilgrim asking me what something was on the menu. I knew it was trout, but was at a loss for how to describe it, given her limited English. I asked if anyone had a pen, so I could draw it, but the restaurant (all five tables) turned into a game of menu charades. Everyone was trying to do their best swimming fish impersonation. Amusing to say the least. I must admit, my chicken imitation was understood in less than one second.
A good night sleep for another long day.
FitBit Stats:
Kilometers walked: 29.45
Steps taken: 40,137
Floors climbed: 71