Today was not a good day. I was feeling sick all throughout the night, and it didn't subside in the morning. I had felt a cold coming on during the night, with my sinuses draining. To top it off, my stomach was also acting up…perhaps from something I ate. There was no pharmacy in Hornillos del Camino to buy Immodium, so I had to keep moving. The path today was manageable, but there was only one stop at the 11km for the whole day. Knowing that the path went through the desolate meseta, I was afraid to eat or drink anything with my stomach. After a long stretch, I did make it to Castrojirez. I was completely wiped out upon arrival. Dehydration and just plain fatigue. I found the farmacia, and got the Spanish version of Immodium
After recouping from the day I went and had a well deserved dinner: Traditional Castilian garlic soup, chicken, and for the first time this entire trip….flan!
To bed, and to sleep early.
Pictures from the day:
The picture I do not have:
Just outside Castrojirez we hear this voice from down in the field next to the road. It is saying "Hey Camino! Hey Camino!" We finally see through the bushes that it is an older man. He keeps saying "Camino!" We think that he is telling us that we have taken a wrong turn and have missed the Camino. But we assure him that we are on the right path. He continues motioning to us. Finally he throws some thing at us. It is a large cucumber from his garden. He threw one to Diane and then he threw one to me. We thanked him and continued on our way.
You can't make this stuff up.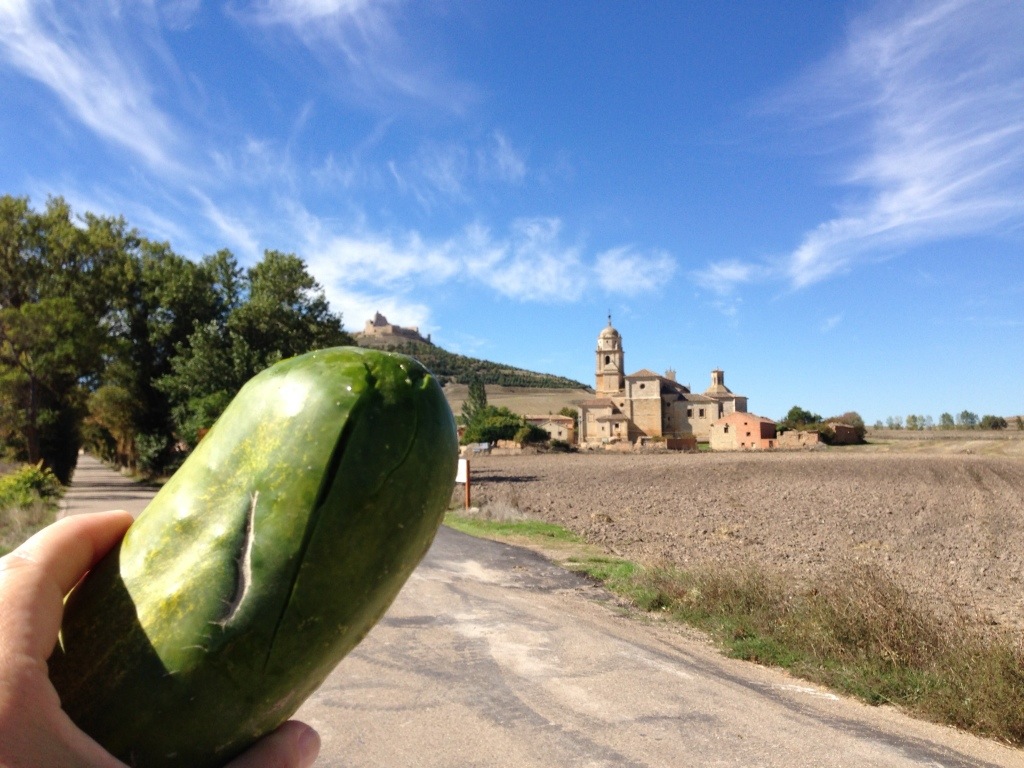 FitBit Stats:
Kilometers walked: 26.24
Steps taken: 35,752
Floors climbed: 70