I woke up at 6 AM this morning to the sound of rain. I decided to delay my departure. I ended up leaving the hotel at 8:00. By that time the rain had subsided. I was treated to the most beautiful sunrise and a rainbow.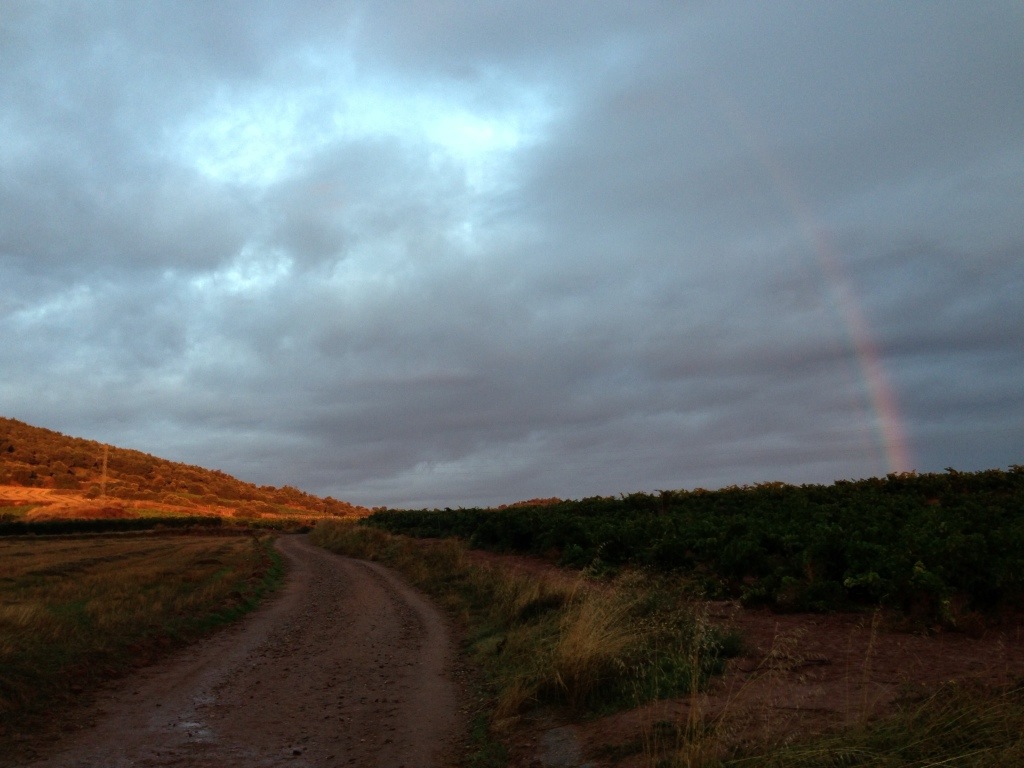 The path was mostly farm roads through vineyards this morning. There was one small incline that lead over the ridge to the next valley. The Way led down to Najera. The way into town was not the most scenic. It was industrial and a little downtrodden. Once in Najera, my impression did not improve.
My knee was / is still on the mend, so I took the bus from Najera to Santo Domingo de Calzada. Santo Domingo is a larger town and much nicer. There I met up with Marla and Ruth for lunch. They were heading onto Grannon to sleep in a church. I went back towards my hotel and met up with Kay. We toured the cathedral together. This is the one with the chicken and the rooster in it. (Story on this later)
After that I checked into my hotel. I was pleased to find comforts of home that I had been missing. Conditioner, Q-tips, ahhhh such luxury!
I met up with Margarite in the plaza and had a nice early dinner. Did a little grocery shopping for trail snacks and went to bed early. Tomorrow is going to be a long day…over 25 km.
FitBit Stats:
Kilometers walked: 18.03
Steps taken: 24,577
Floors climbed: 18