The day began quietly. Quietly waking up in a room of 12 strangers, and trying to get ready in the dark. Ever tried to take care of a blister with moleskin and duct tape in the dark? How about quietly stuffing you sleeping bag back into its sack? Not very easy. This polite gesture on my side did come back to haunt me later in the day.
I had a quick breakfast at the albergue, because the first town was not for at least 11 km. The first 4km were steep incline and tiring. The descent was even steeper. On one part of the descent I felt my right knee pop. It just sort of buckled underneath me. It seemed to be OK while walking on flat terrain, but was aggravated on uphills and downhills. Uh-oh.
And the the day got better. It began to rain. This is where my quiet packing of the morning came back to haunt me. As it started to rain, I had to drop my pack in the middle of the path and pull out my rain gear…which was at the bottom of my bag. Everything had to come out. Rookie mistake. By the time I had dressed and reloaded my pack, I was soaking, and the rain had subsided. Just my luck.
As I approached Viana, I met up with Marla and Ruth. We went into town to have lunch. And I began to consider my options. With my knee in the state that it was, I opted to take a taxi to Logroño to rest. While having lunch, we were joined by two young German girls, Janine and Ann. Janine had hurt her foot, so I offered to share my taxi to Logroño with them. After a while they agreed.
As most conversations go, we began talking about why each of us were walking the Camino. Ann said that she was walking to keep Janine company. Janine was walking because her father had always wanted to walk the Camino. Her father had died this year. I almost began to cry. I told her that I too had lost my Father this year. I then said her father must have been very young. She said "Yes, 46. Cancer." It struck me down.
Even when you are taking a taxi on the Camino, you meet the people you need to meet.
I got to my hotel in Logroño and promptly took a bath and a three hour nap. A about 6:30, I decided to wander down to the plaza to see if I knew anyone. I did. I saw a number of fellow pilgrims, and met some new ones.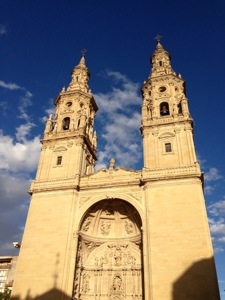 I had a nice pilgrims menu at a local restaurant and then went back to the hotel to sleep, not sure of what I was going to do tomorrow, and felling a little bit alone.
FitBit Stats:
Kilometers walked: 16.16
Steps taken: 22,011
Floors climbed: 74