A day of rest. I rested my knee and the rest of my body. I walked around the town, and found that despite the fact that I felt all of my new friends had moved on, there still remained a number of pilgrims that I knew. It was refreshing to see that I was not the only one taking a day of rest.
I was able to catch up on my blog posts and even post photos..as I am sure you can tell. I enjoyed having a room to myself and the fast wi-fi that the hotel had. Ironically, my room had a black and white photo of the California street hill in SF. It was shot in about 1950, judging by the cars on the street. The buildings and the cars may change, but that hill will remain the same. It was kind of eery to see the view from my walk to work, welcome to my room in such a strange place as this.
I spent some time in the cathedral, seeing if God had any idea of what I was doing here. No luck, but it was calming.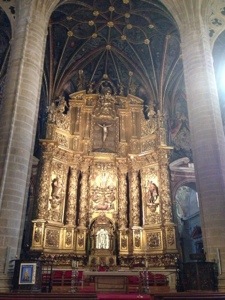 Had a quick dinner and off to bed
FitBit Stats:
Kilometers walked: 9.77
Steps taken: 13,309
Floors climbed: 3
(With stats this low it may be difficult to sleep tonight)